T he whole premise of Morph Into a New You is... "If you want to change your life you have to change your mind about your life." To some it sounds almost corny. It is real. I recently became aware of how I have excluded certain areas of my own life from this concept. I grew up in a familial war zone, everyone fought all the time, constant screaming and arguing. I live with a very reasonable peace in my life now. And... still there are times when I find myself in an internal war, an argument if only in my head.
Still it has the same effect on my peace as if it were actually happening. The other day when I caught myself arguing in my head about something that happened years ago, I remembered the Morph credo and a lesson from ACIM, ''l can choose peace instead of this." I have been choosing peace ever since instead of the war that my ego loves. In remembering I am the master of my mind, I can truly change my day. The only thing that deserves your true vigilance is peace of mind. Thank you
If you want to change your life, you've got to change your mind about your life.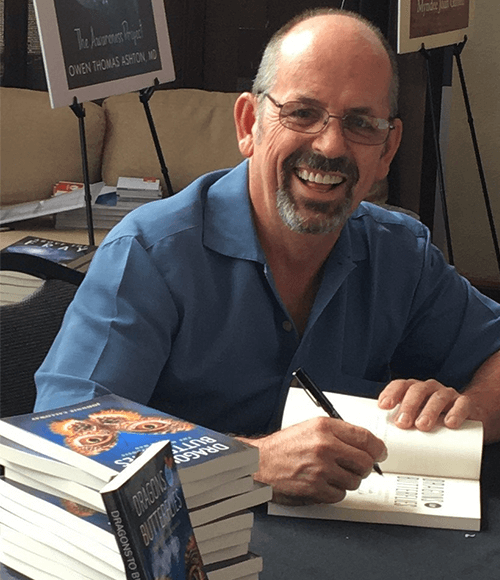 Writer's bio
---
J

ohnnie Calloway; Author of, "Dragons to Butterflies", "Taming the Dragon" and "The Bridge".
He hosts the podcast, "Morph into a New You" (Part of Mental Health News Radio Network) His guests are in the mainstream of healing, on the current mental health issues, such as; Addiction, Alcoholism, Bipolar Disorder, PTSD (Post Traumatic Stress Disorder), Depression, Anxiety Attacks, Panic Attacks, Sexual Child Abuse.
5 out of 5 stars – A Fantastic Memoir and Bravery!




"Cat Lyon"

---

Where Do I Begin? What an exceptionally written book and writer Author, Johnnie Calloway is! A true memoirist. As a child, what this man went through and the dysfunctional family dynamic didn't surprise me that it sent him on a...

That incorrect belief and being brought up by a family who was unable to raise kids in a safe and loving environment caused John




"Marilyn Falconer"

---

Read this book. Dragons to Butterflies is the true story of a little boy who believes he caused his Mother"s death. That incorrect belief and being brought up by a family who was unable to raise kids in a safe...

Amazing! Must read!!




"Amazon Customer"

---

This book is amazing! It is a true story about the authors life. He takes you through his childhood, a childhood that nobody should have to suffer through, and into his struggles, as a man, with alcohol, drugs and women....

You Can't Make this Stuff Up!




"docdawn"

---

Johnnie has written a wonderfully detailed account of his life…so far. I look forward to reading the next chapter! Even though I have read and heard hundreds of stories of addiction and recovery, this one is captivating. By telling us...
In The Media
"It fills my soul. It's a big part of my recovery from my mental illnesses because it gets me connected to something real...
It's amazing how raising these things and keeping them going keeps me connected to the planet." 
Get the latest updates by subscribing our newsletter